Spirit
manifest, the essence of Osmoart
Our multidisciplinarity and our knowledge in the field of olfaction and the perfume industry allow us to provide concrete answers to the various olfactory projects of artists, entrepreneurs, institutions, students or individuals.
We are field auditors directly related to operational concerns.
The world of scents opens our minds, we are at your disposal.
OSMOART provides services in the following areas:
For an olfactory culture
Olfactory culture, an exception, is our fundamental essence.
It participates in the construction and the evolution of the individual, this thanks to the importance of an olfactory education and its transmission through a body of knowledge.
The smells, interactive, are exchanges and this olfactory culture binds us together.
It becomes collective through its memory, that of smells and perfumes.
It is an intangible heritage.
For an olfactory art: the perfume
For perfume to be a work of art, it is necessary and sufficient that the perfumer be an artist. What matters, therefore, is not so much to define art as to portray the artist, the nature of the artist who, whatever the material he manipulates: sounds, color or smells , realizes the work of art.
(Perfume in the Fine Arts system, Edmond Roudnitska).
Education enriches culture, culture nourishes art.
The classifications of artistic disciplines are often limited to classical, pictorial, plastic or musical forms, linked to vision, touch, hearing.
They ignore the sense of smell which also conveys an aesthetic expression.
This expression is borderless, free and volatile.
It is expressed under the name of olfactory art, in the name of the perfume.
Atmosphere, ode to air
Earth's atmosphere encompasses our planet.
It has no boundaries with space.
We call this gaseous envelope: air.
A colorless, invisible and odorless material that takes up space, shape, volume.
Air is our vector; a messenger that transports volatile bodies to our olfactory receptors, our nose.
A material that we breathe, inspire, exhale, that inspires us, that we perfume.
Itinerary from matter to spirit
Life is a wake of perfume: it leaves memories of precious encounters.
I am a perfumer-creator and expert in natural raw materials.
Biochemist, alchemist impassioned of smells, I am propelled on a sensational journey, in the world of scents.
For six years, I accompanied a doctor of plant biotechnology who transmitted to me a culture and olfactory knowledge in various disciplines closely linked to olfaction.
Thanks to him, I acquire a rich experience in the design of perfume and the odorization of places and events with famous signs and artists for olfactory scenographies.
Guided by the botany of aromatic and fragrant plants, I continue my training as a student perfumer in Montpellier, then in Grasse where I naturally enter the perfume industry.
Perfumer within Grasse and international companies of composition and raw materials, I participate in research and development of natural raw materials, on an industrial and responsible scale, for the creation of innovative products.
Transform the material, sculpt it, shape it, refine it to extract its most beautiful essence.
From these materials are born precious materials from which I draw inspiration and which I structure with synthetic molecules, more linear, to create a shape, a volume, a fragrance that I expose on the skin or in the air.
Olfactory artistic director of OSMOART, I develop new olfactory concepts.
Being close to the natural, being at the source. The one that fills the most beautiful bottles and scents the plant and human souls that produce it. This is living, this is love.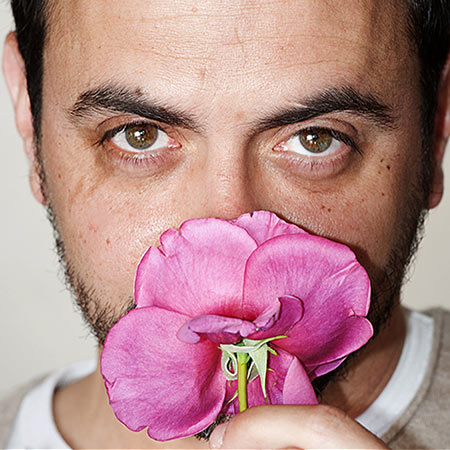 Pierre Bénard